Hello sweeties,
So, what is our tutorial about ? …is about we have one shoe and we need to have a pair……RIGGED FOR ATHENA FEET ..pure and simple
Why we have one shoe ? … I really do not know, but happens sometimes ..you maybe know better :)
And ,because you know better than me, why you have this silly shoe in your inventory , not paired , at least I hope you know if you have the left or the right and if you have it rigged or unrigged  
THE TUTORIAL IS BASED ON BLENDER 2,78 (my lovely one) and Avastar 1.7.1 (this tutorial is not a blender or avastar lesson and you have to assume a basic knowledge before you follow it ).
PICTURE 1
…our lovely shoe , has 5 prims-materials (0-4) and some weights cause happens to be rigged (not my fault)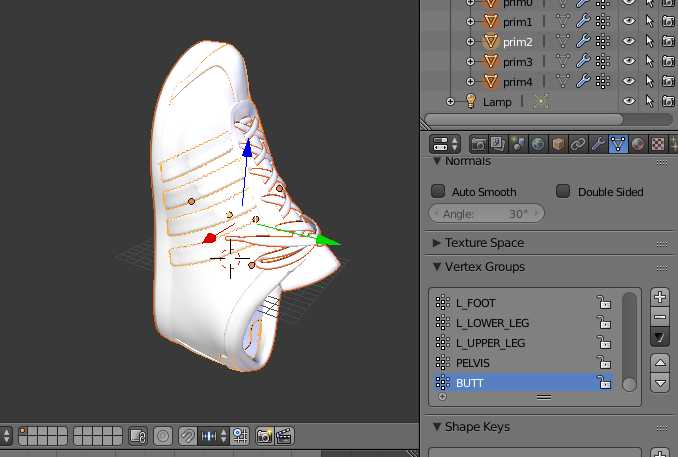 PICTURE 2
Either we press A to select all prims, either we go prim by prim and we delete the weights (Vertex groups) by pressing "-" for each one (is better you start from the last)
*IF YOUR LOVELY SHOE HAPPENS TO BE JUST A STATIC .dae , and is not rigged ,you do not need to this step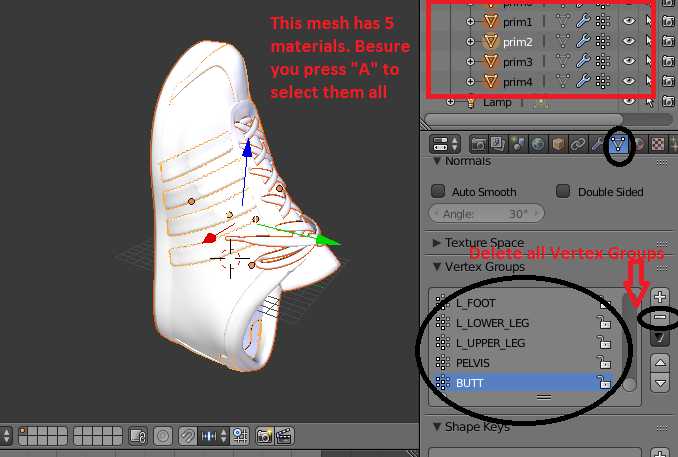 PICTURE 3
Not necessary step , but I use to clear avatar and lamp , so I have just a mesh (the shoe), empty of weights and anything other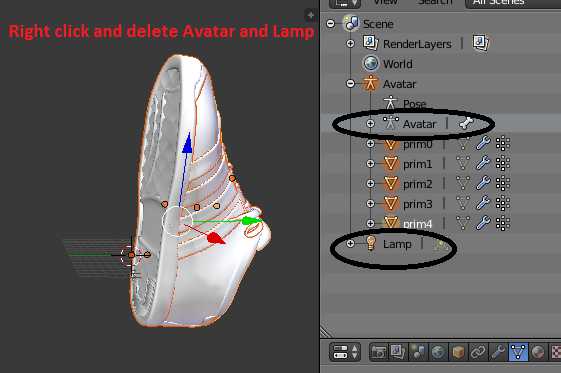 PICTURE 4
We press "A" to select all prims (in object mode) and then we press "Duplicate" under "Tools" tab
Now we have the second shoe, the one we were missing and we can move it to the left or right part of the screen , depends what is the pair we were missing (anyway the duplicate , for the moment, is the same like the one we had (means if we had the right , are both right , and if we had the left , are both left)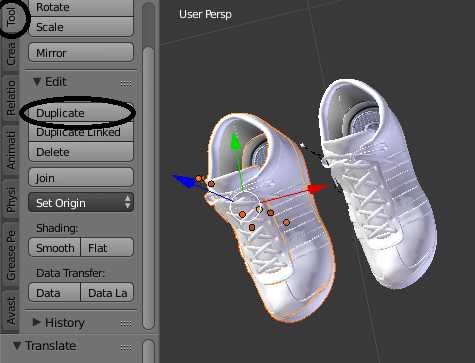 PICTURE 5
And now we do the magic J …  we select all prims of the duplicated shoe (by pressing ctrl and selecting one by one the prims) and we scale it to axle X by -1 (we simple press "s" "x" "-1" and "enter")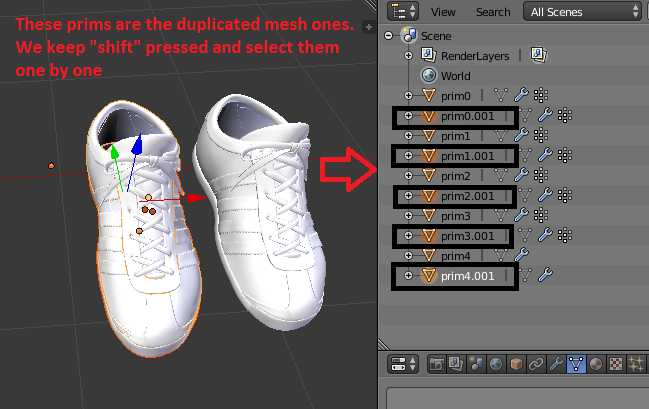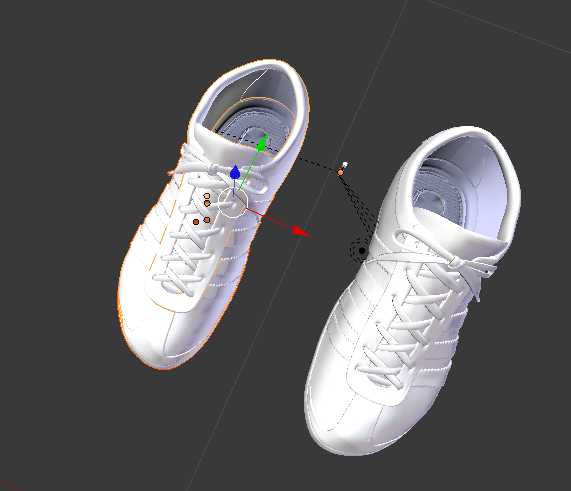 VOILA !!!!   Now we have the paired one to the original ….  99% will be parallel to the original, but if not, we will rotate it to become parallel (this is not part of the tutorial, but is a basic of blender)
****  THE DUPLICATED ONE HAS NORMALS OPPOSITE DIRECTION ( if you leave it like this and you continue next steps , when you upload inworld and you try to texture it , texture will be seen on the opposite position …in few words you will see nothing than a transparent whole)
So,
We press "a" to select all (both shoes) and in object mode ("0bject" tab- Apply – Rotation scale)
We select each prim (one by one) of the duplicated one , we go edit mode (for each prim selected), we press "a" to select all faces , and then we go (mesh "tab" – Normals – Flip Normals) ….we go back "object mode" , we choose the next prim , we go "edit mode" again and we do the same till we finish with all prims of the duplicated one
*** IF YOUR SHOE HAS ONE PRIM (ONE MATERIAL) , THE DUPLICATE WILL HAVE ONE TOO …SO YOU DO IT ONCE FOR THE PRIM OF THE DUPLICATE …OUR EXAMPLE HAS 5 FOR EACH SHOE
PICTURE 6
Before flipping "normals" , you see the difference in color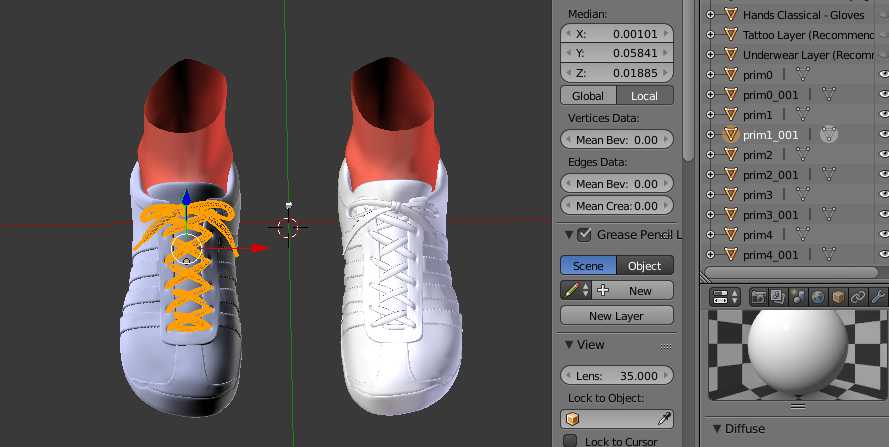 After flipping "normals" the color is the same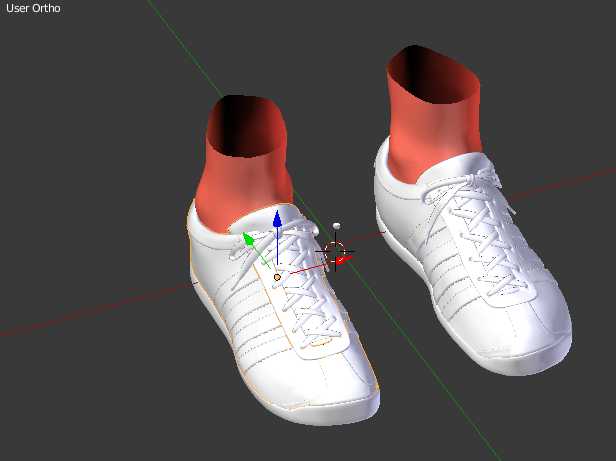 At this stage we press "A" to select all (both shoes) and we export the pair as a static dae, with materials available under texture options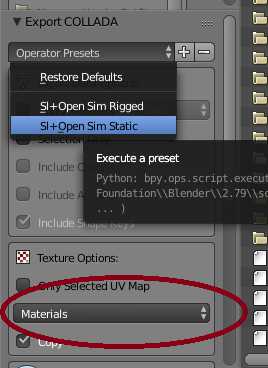 You close blender , you reopen and you open the Athena dev kit .blend file
(if you do not have it, take it here https://opensimnet.com/test/Bearded%20Lara%20Dev%20kit%204.1.blend )
Then  import the .dae (collada) shoe pair in an empty tab
FIT THE MESH ON YOU DEV KIT FEET  (IS NOT PART OF THIS TUTORIAL)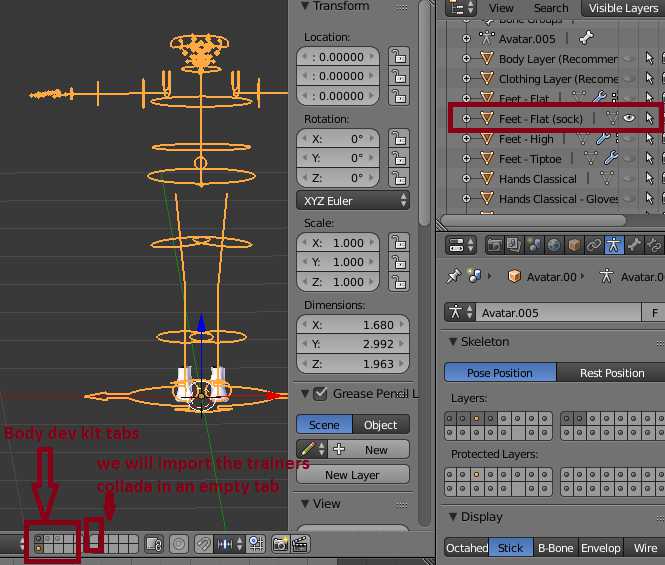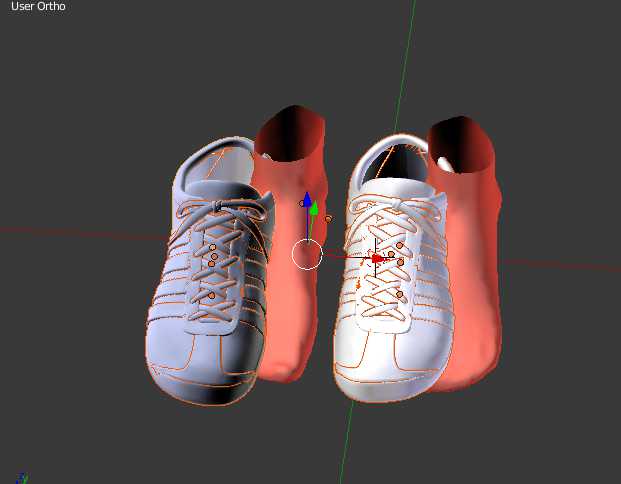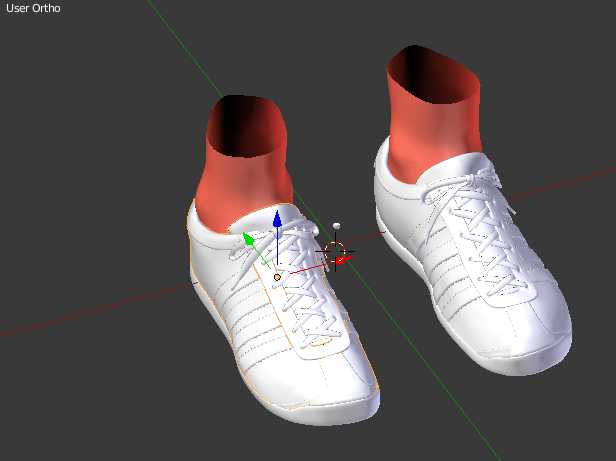 AFTER YOU FINISH FITTING THE SHOES ON YOUR DEV KIT FEET , DO THE NORMAL RIGING (BIND TO ARMATURE)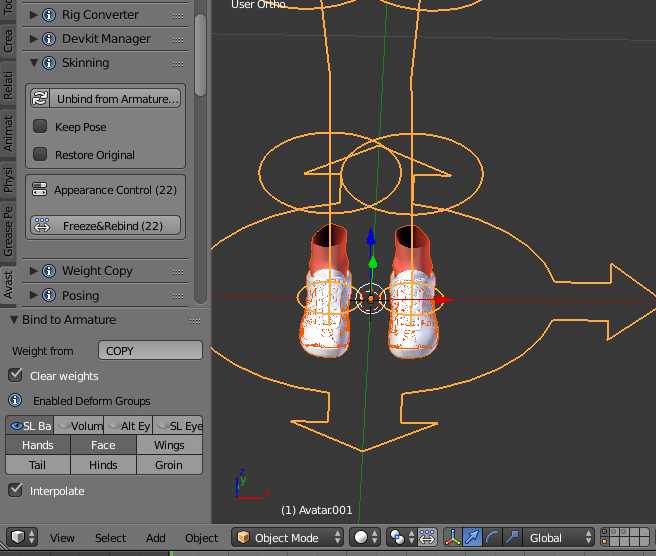 AFTER YOU FINISH THE RIGGING, HIDE SKELETON AND FEET, SO ONLY THE SHOES ARE VISIBLE (but all are selected)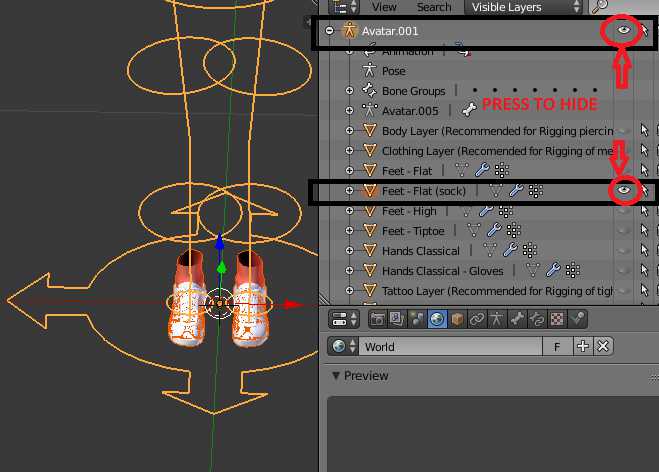 FINALLY EXPORT Collada (Avastar) (.dae) , giving a name to your shoe pair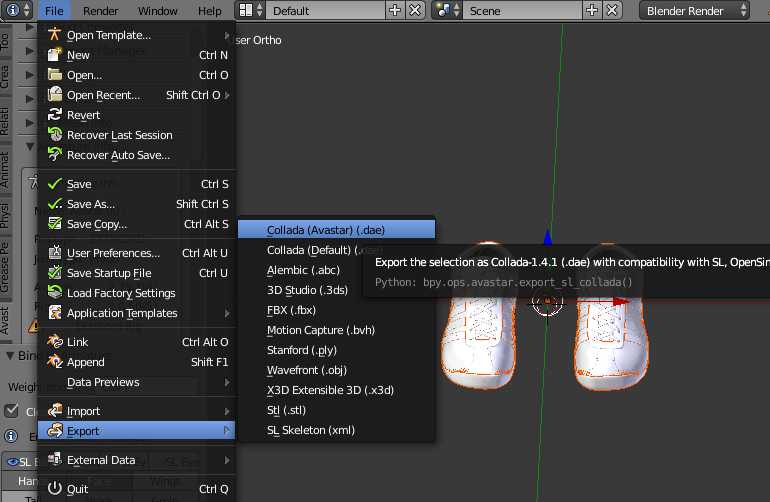 YOU ARE READY TO UPLOAD YOUR RIGGED PAIR INWORLD 

GOOD LUCK !!!!    AND SHARE :)